Join Flo Ayeyemi as she shares her journey of creating and maintaining her own creative businesses.
Flo is a ladieswear & accessories designer and teacher based in Portsmouth. She is a wife, mother and an active member of the community as the coordinator of Moriah Family Support Group. Flo set up her business,
My Fruitful Fingers
in 2014, and has recently gone on to launch a new venture: a non-alcoholic punch and party drinks company,
Fruitful Quenchers.
Join Keiken in the exploration of the intersection of art and technology.

Filmmaker Linda Mason was present at the Collective Futures workshops run by Keiken at Aspex, documenting and conducting interviews with participants.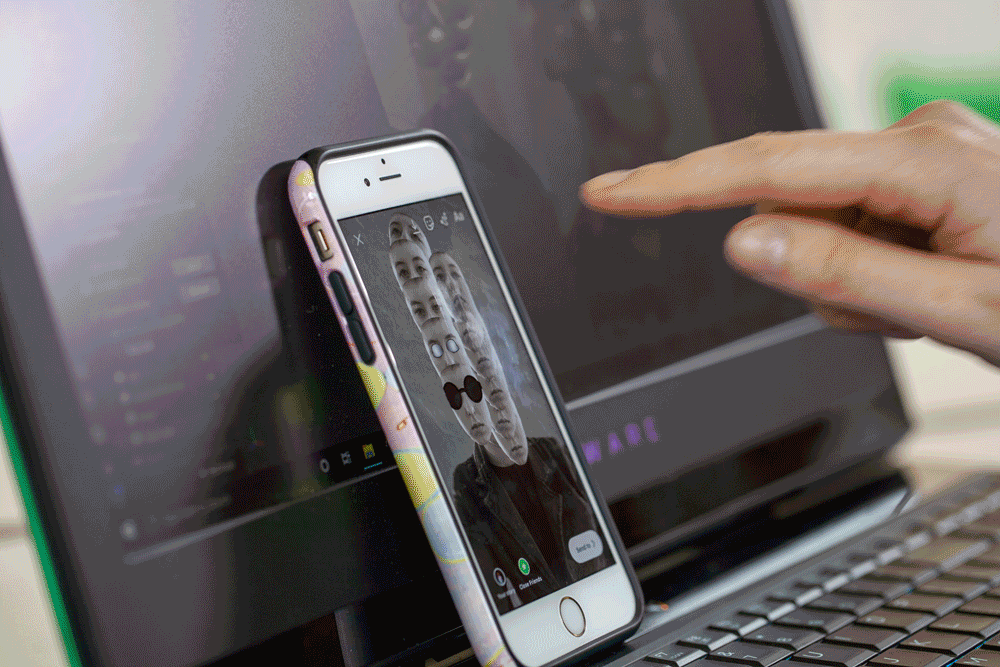 Claire Udy

is a political activist and Portsmouth City Councillor.
She discussed how the forms of technology PONToon has pioneered can
aid female empowerment and activism
.
Women have been training themselves into a digital future just by using their phones.
Louis Netter
is an illustrator, animator and educator, currently a senior lecturer in Illustration at the University of Portsmouth. In this workshop he spoke about art and creativity during lockdown. Louis discussed reportage drawing as a means of telling important stories.
A question to ask yourself when portraying other people's lives and stories: If this was your story, would you want it to be depicted that way?
Amanda Garrie
examines writing,
creativity and performance
in virtual and real spaces. She draws on her own extensive life experience and professional achievements as a writer and educator.
I encourage you to reinvent yourself... To not be focused on one goal, but to be open to the potential of many, and to shift focus when things become stale, or doors do not open.

Sylvia Denham
explores various tools and techniques that can be
used to
set up and run an online business.
Try stuff! It's probably the best way to get to where you want to be.
Nadine Hagen
is an experienced practitioner in the professional training and coaching industry specialising in leadership for black and African women. She is a
women activists and community advocate
. Nadine discussed barriers faced by asylum seekers in regards to
education and learning technology
.
People need to be empowered to break down the barriers and the fears focused around technology... Empowering a woman is, for me, giving a woman the capacity to earn money.
Samantha Harvey
speaks about her interest in using technology as an interface to explore visual forms of portraiture enabling more meaningful reflections of what it means to be human.
The digital art scene is very male-orientated, but I wanted to show that women can start with very limited free technology and be incredibly creative with these tools.
Sarah Cheverton
is one of the founders of Star and Crescent. She talks about how her newpaper provides political news coverage that allows local voices to be heard, were elsewhere they are missed.
They aim to deliver more diverse media
.
Women in journalism are challenging biases, prejudices and stereotypes.

Erika Hughes
is a director, dramaturg and Academic Lead in Performance at University of Portsmouth. She joins us for a live presentation on Women's Theatre and Digital Storytelling. She talks about the power of using
writing, performance and film
to explore people's experiences.
The power of digital storytelling. There are emotions you experience when you tell your own story. When you are doing it in a format such as digital storytelling you see yourself in relationship to that story.

Alison Habens
believes that
creative writing
can be used as a
tool for wellbeing
. That the heroine's journey can be theraputically applied to day to day life.
Have you ever thought about your life as a great adventure?